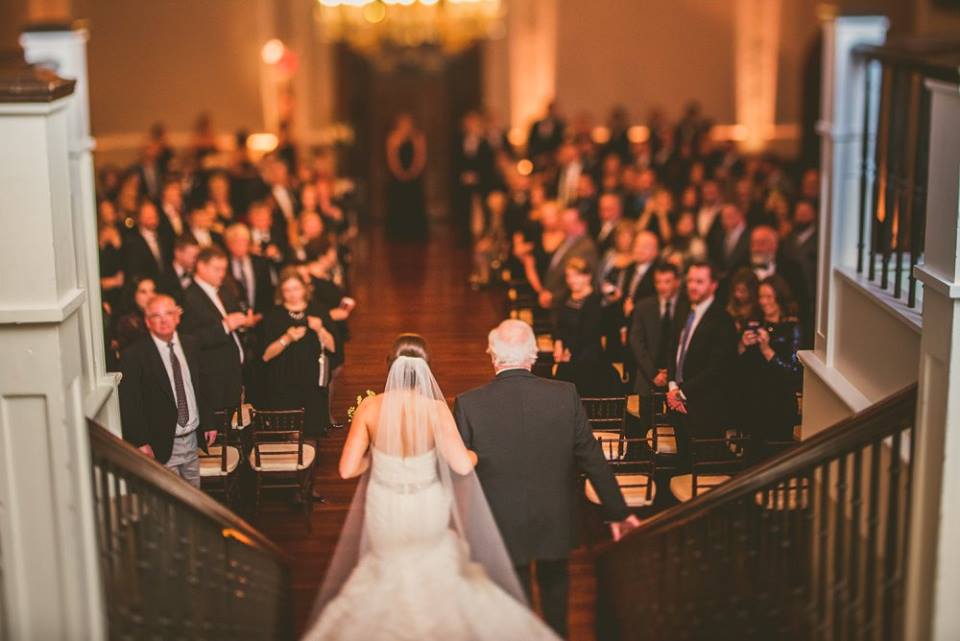 Hi guys, happy Friday and welcome back to the blog. Today I wanted to reshare some content here on SalemMAWedding.com that I created a few years ago over on ThingstodoinSalem.com. After networking with some lovely folks in the North Shore Wedding Professionals group, I decided to put together a collaborative post with some tips and tricks. Are you looking to get married in Salem? I reached out to some of the venues and vendors in the area and asked them to put their thoughts together for me. Below you'll find some of their ideas, helping you navigate your big day in the witch city. I hope it helps!
Please also note the image used in this blog post was provided by Colonial Hall at Rockafellas and is used with permission.
Colonial Hall at Rockafellas
"Being one of the oldest cities in America, Salem has the most beautiful buildings to host weddings and events. Colonial Hall at Rockafellas is part of the historical Daniel Lowe Building, built in 1826, with many of the original architecture still in place, making beautiful backgrounds and photo opportunities!
Colonial Hall at Rockafellas has the ability to host your ceremony and reception with two beautiful bridal suites available for the bridal party. From smaller, more intimate events of 50 guests, full sit down seating for 200 and social, more casual events for up to 375, we can transform your ideas into beautiful Salem events. We have close relationships with our decor vendors and have the best chef in Salem to give each event a fully customized menu! Let us create an wedding as unique as you are! If you're considering having your big day in the witch city, here are a few tips from us here at Colonial Hall at Rockafellas….
Consider the logistics. Don't make your guests figure out parking on their own! There are tons of options and price points and we always suggest to showcase a few options on your invitations or wedding website. We are happy to assist with parking logistics. Take advantage of Salem's many historical sites. We have many options for your ceremony! Whether you dream of using an exquisite church or historic building, or to have everything in the same venue for weddings of 120 or less, we can help you plan it all! Save on money by using the options available to you. With our many beautiful decor options, you can save a lot of money on things like custom linen and chair covers. Uplights are our favorite way to transform our ballroom and your DJ can usually give you a great deal to include them in their services."
The House of the Seven Gables
"Weddings in Salem and at The House of the Seven Gables can be challenging but very rewarding. Most of the couples that have weddings here at The Gables have a strong connection to Salem or are local or lived here at some point in their lives. Between the Gardens and the waterfront situated between several historic houses The House is a hidden gem. I am always encouraging folks to make their history part of the almost 350 year history of The House of the Seven Gables. Most people do not realize that we are a nonprofit organization that was started over 100 years ago to help the immigrant population here in Salem which is what we continue to do today with our educational programs and partnerships along with the preservation of 7 historic buildings. The fees from our rentals help with our dual mission. We do events from 2 people up to 300 depending on the needs of the person who wishes to rent our space which also includes cocktail hours, rehearsal dinners, birthdays and showers."
Hamilton Hall
"Built in 1805 by Samuel McIntire and located on Chestnut Street in Salem, Massachusetts, one of the most beautiful and architecturally significant streets in America, Hamilton Hall has been the site of memorable social and cultural events for over 200 years. Recognized by the National Register of Historic Places, Hamilton Hall offers a private setting only twenty miles north of Boston and is convenient to both northern and southern New England.
Entering this acclaimed Federal-era architectural gem in Salem's historic McIntire District, you ascend the grand staircase leading to the two-story elegant ballroom with Palladian windows, 19th century Russian gilded mirrors and Italian chandelier. The ballroom, which graciously accommodates up to 160 for a formal seated dinner or 200 for a cocktail style menu, boasts two fireplaces, a musician's balcony, and beautiful hardwood floors and is the ideal setting for the first chapter in your new life together.
The private McIntire Garden with its lush canopy of flowering trees and plantings is situated across Chestnut Street facing the Hall's brick terrace and provides a wonderful setting for photographs and outdoor wedding ceremonies. After the ceremony, proceed to the stately Pickering and Brick Hearth Rooms with its great fireplace and original ovens, for inspired cocktails and customized hors d'oeuvres.
Whether you have long dreamed of an intimate, romantic seated reception for your closest family and friends, or a celebratory cocktail style gala for 200, Hamilton Hall and its seasoned staff with an unsurpassed level of expertise and personal attention would be honored to assist you with every detail of your once-in-a lifetime celebration! Hamilton Hall maintains a list of Exclusive Caterers who meet our insurance requirements and are familiar with the unique working conditions of Hamilton Hall."
The Hawthorne Hotel
"With a history dating back to 1925, our passion for weddings remains as vivid today as it was then. Filled with historic details, yet stylish and modern in approach, our 19-foot tall Grand Ballroom offers an unforgettable venue with an expansive interior and magnificent Palladian windows to bring a spacious elegance to your wedding.
From contemporary chic to classic sophistication, let our wedding team turn your dream into reality. Our experienced wedding professionals are here to advise you on everything from entertainment and florists to photographers and menu selections, and will take your worries away from the moment you start planning. Located in the heart of historic Salem, the Hawthorne is an ideal setting for family and friends. From the adjacent 76-acre Salem Common to the nearby Maritime and Salem Harbor backdrops to the quaint nooks and crannies of the downtown area with its bustling restaurants, bars and attractions. Turn your wedding into a festive weekend journey.
With 93 well-appointed guest rooms, two award-winning restaurants and private banquet space, we can accommodate your welcome receptions, brunches and more. Offer your guests the convenience of staying at the Hawthorne and eliminate the need to drive, so that everyone can enjoy the wedding in a relaxing atmosphere.
Some tips and tricks… Book a wedding in January, February or March – you will have the city virtually to yourself. It's the slow time of year in terms of tourists so your guests won't have to fight with crowds to see all the sights of Salem. The Hawthorne Hotel is located in the heart of Salem, which gives visiting guests a "staycation." They will be able walk everywhere they want to during their stay. The Hawthorne Hotel is one of the few places to stay in Salem that has parking (120 spots) which is a huge benefit to anyone staying here in Salem. Even though we are busy in the summer and fall, there are still several options of hotels and inns within Salem and neighboring towns for Hawthorne Hotel wedding guests to stay in if we are fully booked. Those who look to Salem for a wedding, in honor of its Witch history, will love planning their wedding with our "Salem specialists" who are fully versed in Hand Fasting Ceremonies, and themed weddings. Part of our wedding packages include a limo, and many of our Brides take advantage of this for their photographs. They use the limo to visit sites around Salem such as the wharf, and our famous Friendship of Salem ship. Salem is a four seasons town where your wedding will be picturesque throughout the year. The Peabody Essex Museum brings together the art and culture of Salem, which makes it a highlight when visiting our city. It can also be used for a wedding, social, or corporate event (catered by the Hawthorne Hotel)."
Marrero Events
"There are countless reasons to celebrate your wedding in Salem, Massachusetts. In addition to many museums, history, tours and interactive experiences available, Salem also offers your guests the unique and special ability to stay in very close proximity for the entire wedding weekend! Salem's wide offering of charming hotels, inns and cozy nooks throughout town offers something for everyone and can have a "small town" feel. There is simply nothing that can replace the convenience of having those you love close by to share in your wedding weekend.
In adding to being home to some of the most historical properties on the north shore, Salem offers some beautiful locations for your wedding, ranging from celebrating with your friends and family in the comfort of a hotel such as the Hawthorne Hotel or Salem Waterfront Hotel where you and your guests can call "home" for the entire wedding weekend. Just steps away from the hotels and inns you'll find the elegance of the Peabody Essex Museum. Take one step inside and you'll understand why this venue is in such high demand, and we simply love the high glass ceilings and dramatic curves of this space!
Salem is also becoming a mecca for foodies and those seeking gastronomical delight! From a casual tavern to high end luxury, there are restaurants to satisfy even the most discerning palate with most offering private dining space for rehearsal dinners and private events.
We absolutely love Salem and it's surely becoming one of the most-desired destinations on the north shore of Boston for weddings!"
The Peabody Essex Museum
"Salem is such a great town to host your wedding! We have so many amenities that make your wedding planning easy and offer a great location for your guests, to not only celebrate your big day but to enjoy a weekend get-away! We have great restaurants for rehearsal dinner or you could plan a casual affair with a BBQ on Winter Island or a Mahi Mahi boat cruise. For your ceremony we have many religious sanctuaries in Salem or get married on the water at the House of the Seven Gables. For your reception, the Peabody Essex Museum is a unique and beautiful venue located in downtown Salem, walking distance from hotels and $0.75 an hour parking. As you and your guests walk back to the hotel at the end of the night, be sure to stop in to one of Salem's great breweries and don't miss a late night cookie at Goodnight Fatty!
And to make your planning even easier, there are so many great wedding vendors. From hair & make-up, photographers, florists, musicians & dj's, transportation companies, caterers, event managers, and even 2 chocolatiers for delicious favors! – all in Salem who come together to make your wedding day wonderful!"
I hope this helped give you some insight into planning your big day. Good luck and congratulations!

Are you a North Shore based or New England based wedding professional?
If you are a North Shore based or New England based wedding professional interested in sponsoring a blog post, click here. I'd be happy to chat about working together.
Recommended reading | You might also like…