Please note this blog post is sponsored by the Schooner Fame. To read more about that, click here.
Who wants to get married on a boat? *raises hand* Getting married on board the Schooner Fame with gorgeous views of Salem and the north shore sounds like an absolute dream. I have had the pleasure of coming aboard the Fame a few times now and can say from personal experience how great it is. One of the last times I was on board I even saw a proposal happen with my own eyes! It was so sweet, the woman was completely surprised and it was amazing to see that happen in such a gorgeous setting.
I was fortunate enough to chat with Melissa and Michael Rutstein who own and operate the Fame and today we're going to learn a little bit about having your big day out on the water with them!
Before we start, I'd like to share this gorgeous drone footage of a wedding on the Fame. This was captured by Lightshed and they did an amazing job!
To begin with, please tell us a little bit about yourselves and the Schooner Fame.
"The schooner FAME is a family-owned business, with daily public sails all summer long, and weekends in the spring and fall. Every year we host a variety of private events: weddings, bridal showers, bachelor & bachelorette parties, rehearsal dinners, and morning-after-the-wedding champagne brunch sails. Birthday parties, family reunions — you name it.
FAME is a re-creation of a boat that was originally built in 1811 in Annisquam, for the fisheries. Just before the outbreak of war in 1812, the original FAME was purchased by 25 Salem ship captains, and outfitted as a privateer. She was one of the first privateers to leave Salem when war was declared in June of 1812. FAME sailed for New Brunswick and captured the first prizes of the war, an auspicious beginning to her successful career.
Our new FAME is 70' long, and can carry 40 people (pre-COVID!) It was built by National Heritage Fellow Harold Burnham, an 11th-generation boat builder from Essex, MA in 2003. The schooner is Coast Guard inspected and certified.
Michael is the primary captain of Schooner FAME, and his wife, Melissa can often be found in the ticket booth at the Pickering Wharf Marina, where the schooner is docked.
Michael has been a writer, a publisher, and historian. He has written two books on the original FAME and on the history of privateering, exploring the story of the original FAME and its connections to Salem history. On every public sail, there is a brief discussion of Salem maritime history and privateering, and a swivel cannon is fired! Michael enjoys getting passengers involved in raising the sails and even steering the boat. "Hands on history" is our motto!
FAME is very stable, due to its 14-ton lead keel and beautiful sails. It feels spacious onboard, with comfortable seating for all. We have a liquor license and normally carry: beer, wine, margaritas, local rum, as well as water and soft drinks, and small snacks. For private events, we are able to provide most any drink requested, and can accommodate catering. Private charters are generally two hours long, but can be longer if desired!"
What are the logistics of getting married on the schooner? How many people can attend?
"It is easy to plan a wedding or party on the FAME! We are delighted to talk to potential clients on the phone and tailor your sail to your specific needs. Pre-COVID, for a special event like a wedding, we would normally recommend a total of 32 guests if food will be served, and 36 if offering drinks only. Currently, in Stage 3 of re-opening, we can take 24 passengers sailing. We believe it's the perfect number for a safe gathering on FAME — plenty of room for social distancing and photographs, and more room for food! To secure a date, we ask for a 50% deposit."
How far in advance should the wedding be booked? Considering October is peak tourism season in Salem, do you offer October wedding dates to be booked?
"This year, we are pretty flexible; in 2021 we expect to to see a backlog of folks who postponed weddings from this year and we expect to be busier, so booking well in advance is recommended!
October is obviously a popular time to book a wedding or party on Schooner FAME. Fall sailing is the best, and the light at sunset is amazing. However, the weather becomes less reliable after Columbus Day, the sun is setting earlier, and everything in town is busier, so those are considerations to keep in mind. June is a traditional wedding month, the town is relatively uncrowded, and the days are long. July and August is OUR peak season. September is a win-win — you get the fall ambiance, but skip the crowds. October…well…you're all-in for the total Salem experience!"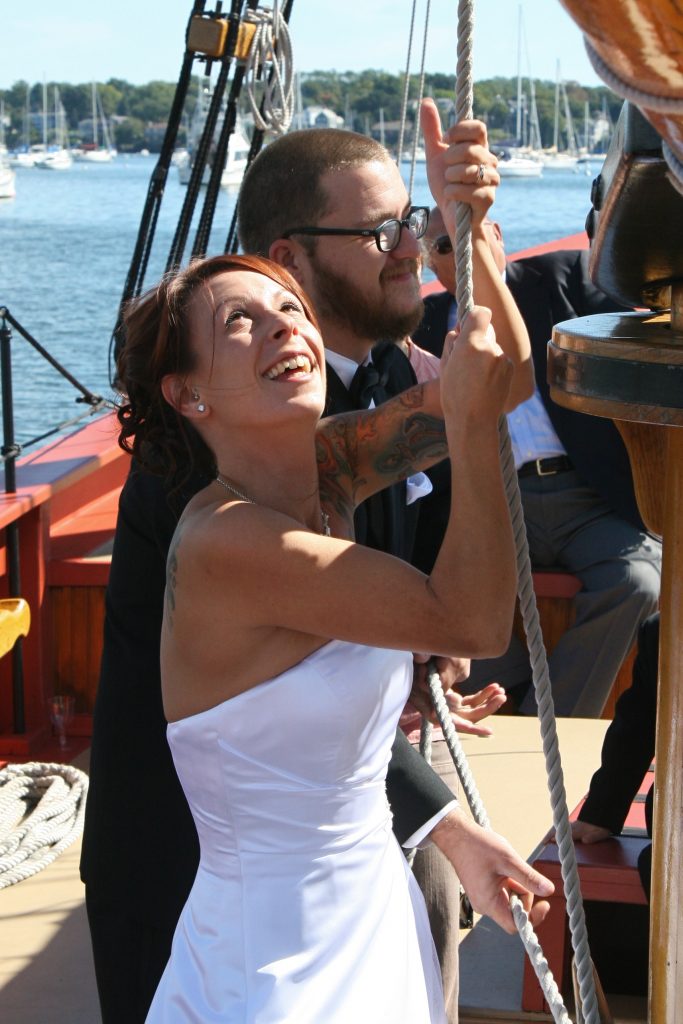 Are there certain time frames that are available to be booked for a wedding or does the couple get to select the time of sail?
"Private charters generally take precedence over public sails—we are pretty flexible! Booking in advance will allow you to select the time of the sail. With last-minute bookings, obviously, we have less flexibility."
Does the Fame officiate the ceremony or does someone need to be brought on board to do that?
"Anyone can officiate a wedding in Massachusetts (once a year) by filling out a form and paying a small fee. You can have the captain perform the service, if you wish, or bring your own officiant."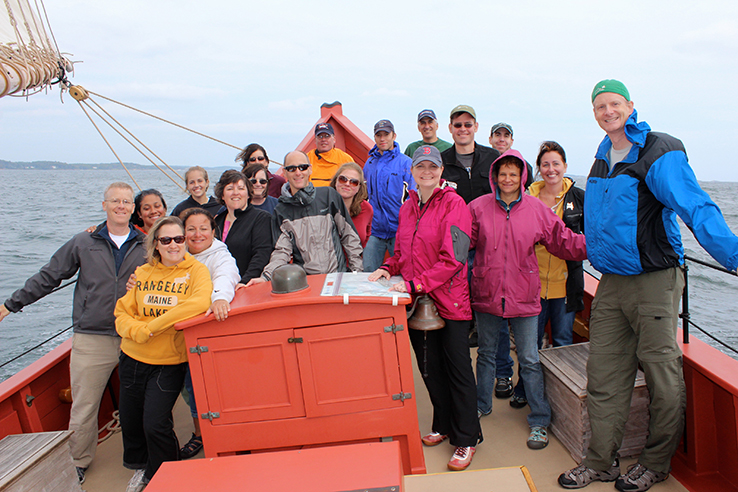 Can food and drink be brought on board for the wedding? Is there a bathroom for the guests to use?
"Our guests are welcome to work with the caterer of their choice. We can assist with recommendations, from simple to lavish! As we do have a liquor license, alcoholic beverages must be supplied by us. We normally carry beer, wine, margaritas, rum drinks and soft drinks, and we are able to accommodate drink requests. Champagne toast?
There is a "marine head" or bathroom onboard the schooner — it is below decks, so access is by short, sturdy ladder."
Do the guests have to worry about getting wet while sailing? What happens if it rains the day of the wedding?
"Very rarely do passengers get wet while sailing on the schooner! We can control the sail area to provide comfortable sailing in most weather. We wish that we could control rain, but we cannot. If the weather is too inclement to sail, we do offer a full refund. A smart planner will have a bad-weather backup plan, even though it's unlikely to be used."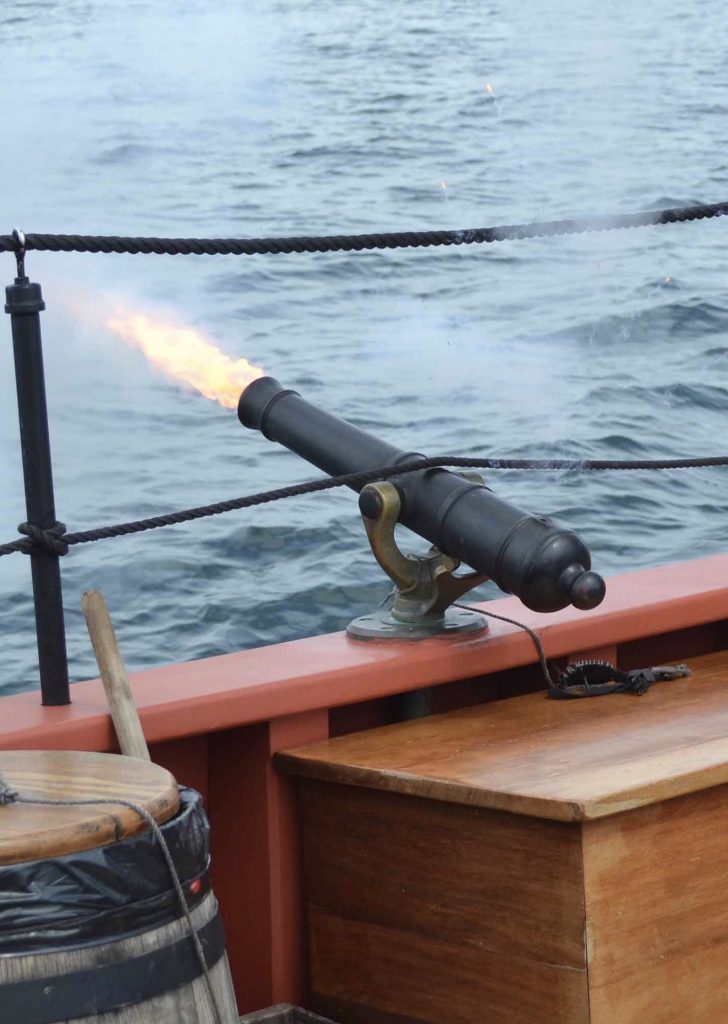 Do you offer other events as well such as bachelorette parties or rehearsal dinner sails?
"We do more bachelor/ettes and rehearsal dinner sails than any other wedding-related event. We really enjoy the morning-after-the-wedding champagne sails as well! The schooner offers plenty of room for family and friends to mingle while enjoying gorgeous harbor views and a fun shared experience!"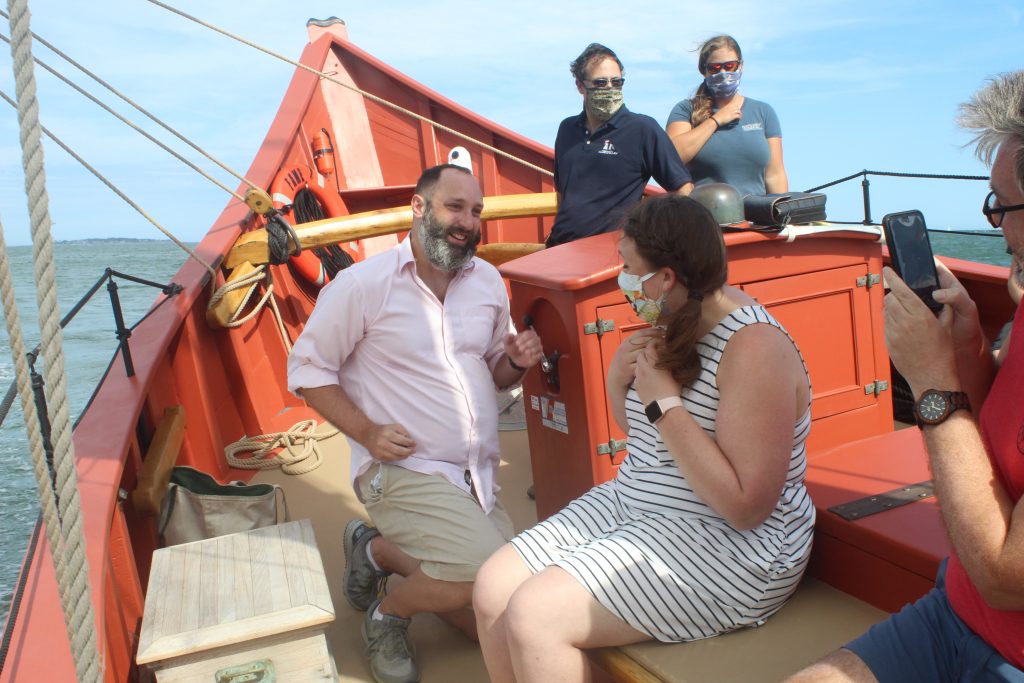 If someone would like to ask their partner to marry them while on a sail with the Fame, are you able to help with that? Is that allowed on board?
"YES! We've had several couples get engaged on the FAME over the years! It's always exciting to be a part of the "plan"! We have captured the moment for several couples, and fired the cannon with a "huzzah!" when the answer is yes! We haven't had a 'no' yet, come to think of it :)"
Is it difficult for older guests to maneuver on and off the Fame?
"No, we often sail with older guests, and the crew is always standing by to help them. However, the schooner is not ADA-compliant and cannot accommodate heavy wheelchairs. There is a wide and sturdy ramp leading from Pickering Wharf to the marina where the schooner is docked. At low tide, the incline can be steeper than at high tide. To get on board, there are five steps up over onto the boat. We have crew positioned to assist with the step down onto the schooner."
Thank you so much to Melissa and Michael for sharing tons of amazing information about getting married aboard the Fame!! Have you been on board? Comment below and let me know! I'd love to hear about your sail.

Are you a North Shore based or New England based wedding professional?
If you are a North Shore based or New England based wedding professional interested in sponsoring a blog post, click here. I'd be happy to chat about working together.