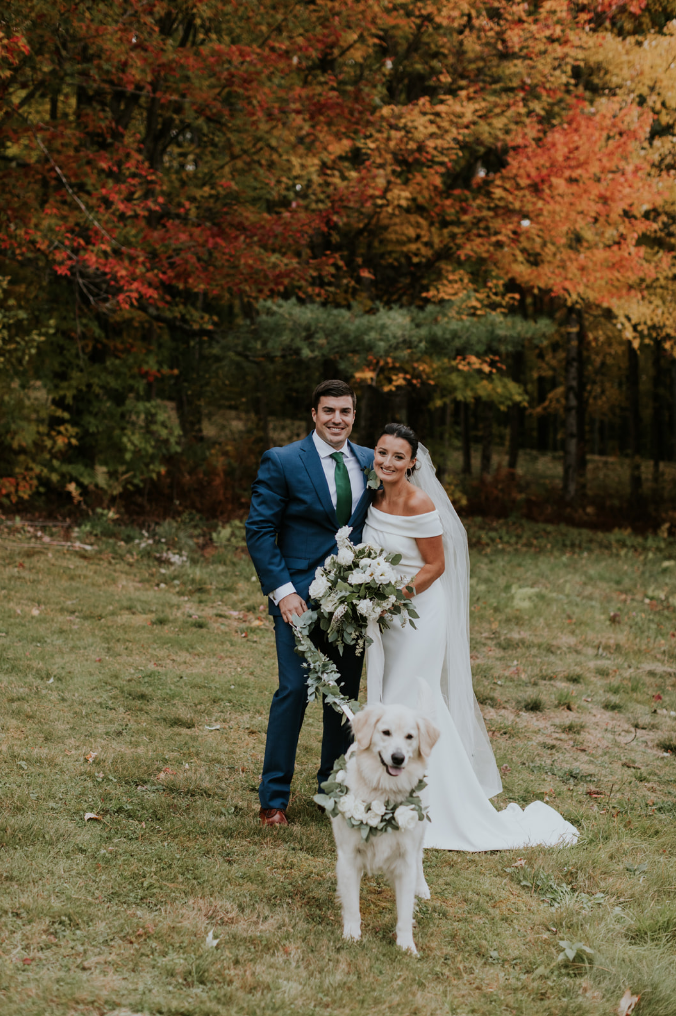 Please note this blog post is sponsored. To read more about that, click here. The featured image in this post is by Fergi M Photography and is used with permission.
Hi everyone! Welcome back to SalemMAWedding.com. Today I am super excited to welcome Danielle Marchessault to the blog. Danielle is the owner of For the Love of Paws which is a Massachusetts based business that helps you include your pets in your wedding day without the stress of doing it yourself. When I saw Danielle's work on Instagram I was immediately in love. I am a huge animal lover and seeing gorgeous images of people including their fur babies in their big day melted my heart. I have personally worked weddings where the couple struggled to include their pets or weren't able to which left a gap where their four legged family members should have been. I knew Danielle would be a great fit for the blog and was so happy to learn more about her and what she does. So lets get to it!
To begin with, please tell us a little bit about yourself, what you do and how you got started.
"I started For the Love of Paws back in November of 2017. A lot of my friends were getting married at the time and wanted to have their pets be a part of their wedding day but didn't want to put the task of pup sitting on family or friends. This got me thinking about my future wedding day and how important it would be to have both of my pups there. I started searching for a service that would bring your pets to your wedding and couldn't find anything! This led me to come up with For the Love of Paws. I already had extensive background knowledge on dog training and animal behavior and wanted to be able to use that knowledge to help couples on their wedding day."
Do your services extend to cats, horses or other animals besides dogs?
"Absolutely! I actually grew up horseback riding and competing at an elite level. Animals have always been a passion of mine and anytime a couple asks if they can include their horse, mini pig, cat, etc. I always say yes. I actually seek out couples that have other pets besides dogs because I love working with them so much! I offer specialized wedding day packages for different types of animals."
What are some of the advantages of working with a professional such as yourself versus just having someone in the bridal party handle this?
"To me, the biggest advantage of having a professional for your pet is the assurance that your pet is in the absolute best care while your guests are all fully enjoying the celebration. Our couples can feel confident that their fur baby is with a trained professional, whose job is solely to take care of their pet. Our handlers provide assurance that their fur baby is fed, cuddled, relaxed, gone potty and trained to pose for photos. All of our handlers have extensive knowledge on training and animal behavior, meaning they know exactly how to help our couples pets pose for photos, walk down the aisle and remain relaxed throughout the day. We allow for our couples to have their fur baby be a part of their wedding day without any stress or worry."
What sorts of logistics are involved in including a pet in the wedding? Are there certain things a client should plan for or specifically tell the venue? Do you recommend visiting the venue with the pet ahead of time?
"There is a lot that goes into coordinating having your pet at your wedding. At For the Love of Paws, we will work everything out with the venue for you. We will reach out to ensure that animals are allowed on the property and if there are any restrictions. Once we receive the couples day of timeline, we will create a personalized timeline for their pet! We work closely with the venue, photographer and planner while creating this timeline. We always plan to arrive at the venue about 30 minutes prior to any wedding day festivities that are scheduled to start to allow for their pet to become familiar with the space. I have found this to be one of the most important aspects of wedding day scheduling."
Are there safety factors that should be considered? Do you recommend having an exit strategy or back up plan in place?
"Absolutely, the safety of the handlers, guests and the pet itself are always number one. With every couple and event, FLP offers a complimentary meet and greet about 4-6 weeks prior to the wedding day. This is extremely important as it gives our handlers insight into the pup's temperament, personality and ability to respond to commands from someone other than their owner. We have worked with all types of dogs and animals in the past and we always have safety measures in place. We have an exit plan for every single event just in case the animal starts getting too stressed or anxious. Animals are very unpredictable, especially during a high stress wedding day. This is part of the reason why we include at least 30 minutes of "exploration" in our wedding day schedule. This allows for the pup to get acclimated with the space."
In your opinion, what is the easiest/least stressful way for someone to include their pet in their wedding day?
"I think it really depends on the temperament of the animal and what the couple feels comfortable with. For some, having their pets with them while they get ready in the morning helps to calm any pre-wedding jitters. For others, simply having someone there to help with a few photos is the least stressful. I would say for pups that have anxiety or get a little nervous in new situations, having them there exclusively during the photo portion is the least stressful."
Do you have certain tips or techniques for wrangling in a pet that is too excited or won't sit still for pictures?
"Yes! All of our handlers bring a mini backpack or fanny pack fully equipped for any pup situation. As mentioned before, your handler will meet your pup before the wedding day so they will know exactly what tool to use for your specific pup come show time. I have found that having treats on deck and approaching the pup with calm and relaxed energy will almost always ensure a perfect pose for the camera."
Do you have a company you work with to get pet outfits for the wedding day? Can a client provide their own outfits?
"We do not have on specific company that we work with but we will absolutely find wedding day attire for our couples if needed. Typically, we will compile a list of places and wardrobe options for our client to review. Once they decide on their attire, we will place the order and bring it with us to the meet and greet for a try on. We will almost always have the couple practice commands with their pup when they are wearing their wreath or bow tie pre-wedding day. This helps the pup get comfortable with the feeling of having something be around their neck. A couple can absolutely provide their own wardrobe! In fact, most couples enjoy finding the perfect bow tie or bandana for their wedding day."
Is it safe to include a pet in the wedding as the ring bearer? Or in your professional opinion is that too risky due to the valuables they are carrying?
"Again, I think it really depends on the pup or pet! We have had weddings in the past where the pups were the ring bearers and it was the cutest thing. We always provide recommendations for couples who are looking to have their pet carrying the rings down the aisle."
If it's just not possible for a client to include their pet in the wedding, what are some other ways they could honor or acknowledge the pet during the day?
"The majority of couples will tell me they don't think their pup will behave enough on their wedding day and while some dogs are simply too anxious, nine out of ten times I would say that it is very possible. Everyone is always so surprised at how different their pups are on the wedding day! The energy that comes with a wedding day can completely change the temperament of an animal. They no longer are with their person so they are now looking to our handlers for guidance. Having a great handler on the wedding day truly does make a huge difference.
For those pups that are simply too anxious for the wedding day hustle and bustle, I recommend having them be a part of engagement photos and displaying them around at cocktail hour, using pictures of your pet as a small decor piece or table number at each table, having goody bags at the end of the night FROM your pet to your guests pets, naming specialized cocktails after your pet(s). There are so many ways to include your fur baby without having him or her physically be there. We are always more than happy to help our couples brainstorm fun and creative ideas."
Thank you so much to Danielle for sharing all of this great info and taking the time to chat with me! If you want to find out more about For the Love of Paws and all of the services offered, check out the following links:

Are you a North Shore based or New England based wedding professional?
If you are a North Shore based or New England based wedding professional interested in sponsoring a blog post, click here. I'd be happy to chat about working together.